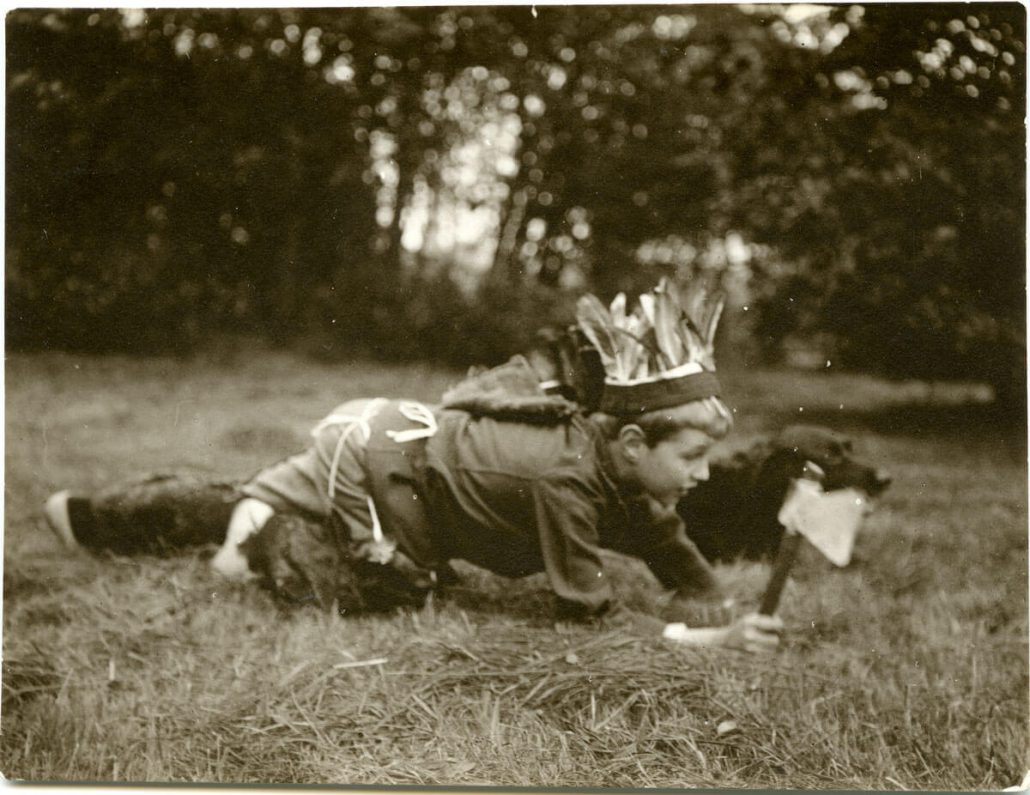 John Pendlebury dressed up as a Native American, crawling on the ground with a toy axe and dog in the background, in the garden at Holly Bank, Bradford, Yorkshire [Violet and Herbert Mitchell's house] (1913)
John Devitt Stringfellow Pendlebury was born in London on October 12, 1904 to Lilian Dorothea and Herbert Stringfellow Pendlebury, Consulting Surgeon to St. George's Hospital London. While an infant, John suffered the loss of his right eye and for the remainder of his life had to wear a glass replacement.
Nevertheless, John had inherited a love of sports and physical activity from both his parents and became an avid athlete, devoting himself particularly to tennis, track and field, and fencing.  Throughout his life, John maintained his athletic form and excelled so well in track and field that years later, when at Cambridge, he managed to achieve a record in the high jump (6 feet) that no other Cambridge student had met in over fifty years.
In 1918 John was enrolled at Winchester College.  While still a student there, his mother died — a circumstance which created an extremely tight bond between John and his father.  Despite his father's remarriage, their relationship remained extremely close, and it is from the detailed weekly letters from John to his father that we know many details of his daily life, routine, activities and travels during his later years in Greece and Egypt.
John's studies at Winchester sparked his interest in the ancient world and the energy that John had always brought to sports was now also channelled into academics.  He was an ardent and earnest student, but by all accounts always maintained an air of affability mixed with a sense of romanticism.  John was initially drawn to Egyptian studies, but studied Classics as well and soon developed a parallel interest in ancient Greece.
He first visited Greece in 1923 during his Easter Break with John Cullen, a Classics Master from Winchester College.  They crossed into Greece by train from the north and travelled down through the Vale of Tempe. [PEN 2/1]  John fell for the country immediately.  "If I'd been the Greeks in the Persian War," he wrote to his father, "I'd have hung on like hell!"
Their journey began with a visit to the British School at Athens, and a meeting with Alan Wace, Director of Excavations at Mycenae.  Wace recognised in John an enthusiasm and strong aptitude for Bronze Age archaeology and invited them to meet him again later at Mycenae.  As they made their way around the major sites, they would walk long distances over rough country.  These walks were gruelling.  It would sometimes take them as much as nine hours before they even arrived at their intended site.  This was an introduction for John to a way of travelling and exploring that he grew to love so well and which became his trademark in archaeological circles.  He quickly came to realize that this method of travelling was the only way to learn the topography firsthand and, in addition, the best way to learn about the people. At Haliartos, for example, they met some shepherds and stopped to talk and drink wine with them.  "Ended up terrific pals," he wrote to his father. "Curious custom of pouring a libation after drinking one's health. We did the last five miles on, in an hour under the influence of 'retsinata' and the guidance of two shepherds."
Four years after that school trip John returned to Greece to take up a studentship at the British School at Athens. It was there he met, Miss Hilda White, who became his companion and colleague throughout many of his travels and excavations. They married in September 1928 and had two children, David (born in 1932) and Joan (born in 1934)  Pendlebury.  Joan Pendlebury donated her family's papers to the British School at Athens via the Fitzwillam Museum, Cambridge in 1979.